Flat Fee MLS Listing
Listing your property in the MLS is the most effective way to get it sold. Your listing will be syndicated to over 85 Real Estate Search websites including Zillow.com, Realtor.com, and Trulia.com. It will also be listed on every local real estate agent and real estate company's search site. Your listing will be on 100's of websites! In addition, any buyer that has a saved search in MLS, any syndicated site, or Agent/Company search site will get an alert letting them know your property is for sale. Your listing will be in front of every buyer with a saved search that matches your property!


12 Month Listing $289
8 Month Listing $275
6 Month Listing $250
Maximum number of photos allowed by MLS
You set Buyer's Agent commission (we recommend 3%)
Includes our 75 point checklist to prepare your home for sale!
Would you like a pre-sale preparation consultation with a local staging expert? When you purchase a flat fee listing from Revo, we will gladly refer you to one of the Upstate's top staging and pre-sale experts.
We highly recommend a pre-sale consultation and professional photography when marketing your property. Homes that have been properly staged and photographed typically sell faster than those that have not.

Add-ons
Professional Real Estate Photography
First impressions matter! The vast majority of buyers will view your property online and compare it with others before they ever decide to come see it in person. Let Revo maximize your home's WOW factor with professional photography.

Pricing

Up to 4,499sqft………..$125
4,500 – 6,499sqft……..$150
Over 6,500sqft…………Call for pricing
MLS Approved Sign with YOUR number ($35)


Did you know that many MLS providers (including Greenville, Spartanburg, and Anderson) only allow the listing company to display a For Sale sign at properties listed in their system? Most do not allow FSBO signs. Revo has you covered! We can provide you with an MLS approved sign with your phone number for only $35.

MLS/Supra Electronic Lockbox Rental ($75)


With an MLS electronic Lockbox, you never have to worry about your combination falling into the wrong hands.
Appointment Scheduling Service ($75)


Let our appointment scheduling service go to work for you. Showing agents call the showing service, the service confirms with you, you never miss another showing again! When you pair this service with an MLS or combination lockbox, you don't even have to take time out of your day to show your property. The showing service will confirm the appointment with you and give the combination and showing instructions to the showing agent. They keep a record of every showing and send automatic feedback request to the showing agent so you know exactly what the buyer liked and/or disliked.
Single Property Website ($35)


Show off your listing with a Single Property Website. Add it to your email signature, share it with friends, put it on social media, share it anywhere you like and get your property even more attention!

Pricing Analysis ($80)


Make sure you get your price right from the start. Overpricing your property will cause it to sit for an extended period of time, costing you more money in the long run. We can provide you with a comprehensive pricing analysis and a recommended price range. There are many variables to account for when determining a proper listing price. Getting it right the first time is crucial for a successful sale!
Transaction Management ($785)


Simplify your transaction and make sure nothing slips through the cracks with Revo Transaction Management. We will help you stay organized, meet deadlines, schedule inspections, closing, etc. and keep all of your paperwork in order. Our e-signature solution will make your life much easier as well. No more printing, signing, scanning, and sending paperwork. With our transaction management, all parties can e-sign everything and keep all documents in one place. After closing, you will receive a copy of your documents to keep in your records.
Smart Seller Bundles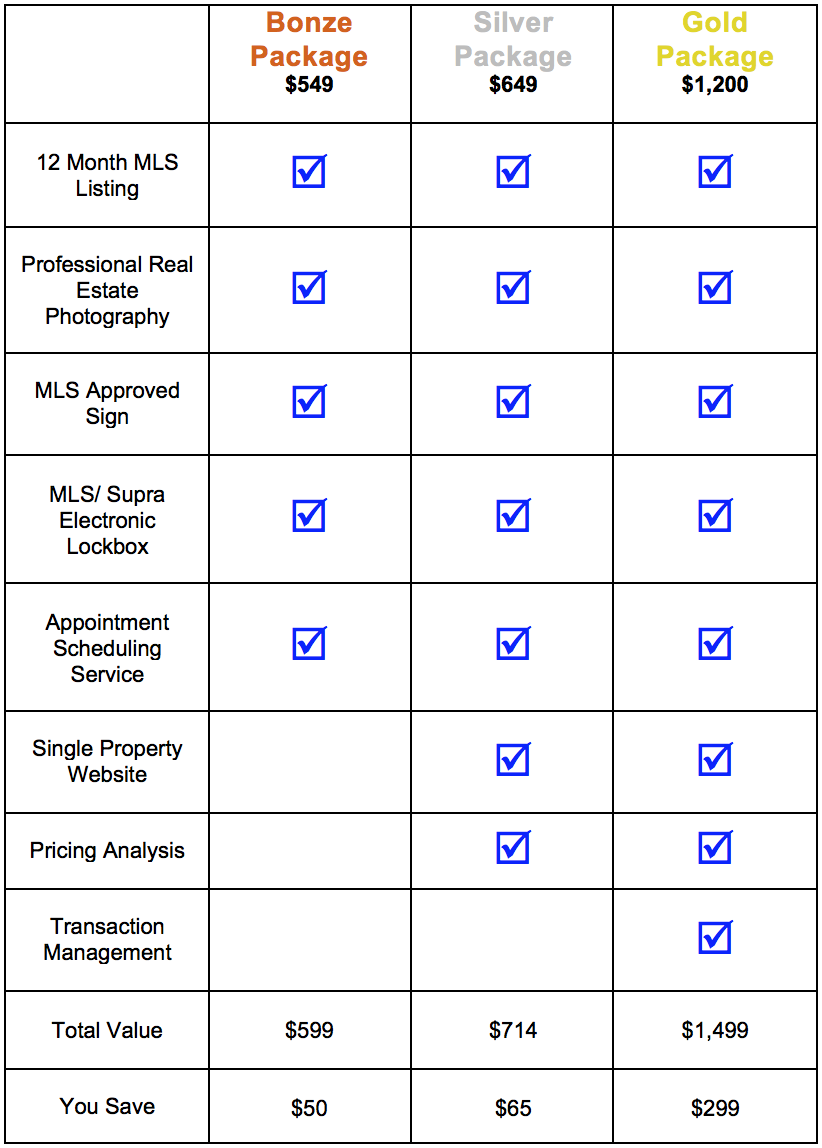 Real Estate Representation (1% of Sales Price – $1,500 minimum)


Add our representation assistance and get professional help with

Negotiating Price, Repairs, Closing Cost, Termination fees, Contingencies, etc.
Resolving issues arising from appraisals, surveys, financing, inspections, and so on.

There are many things that could and often do go wrong during a transaction. With our representation assistance, you don't have to go at it alone. Use it if you need it, save it if you don't.